*This post is in partnership with VETTA Capsule. As always, all sponsored posts are authentic and hand selected by me. Thank you for supporting the brands that make Simply Liv & Co. possible! #sponsored*
You know that feeling of unrest and discomfort when you're inching closer to a mental "crossroads," but you're not entirely sure which path you'll take? I've been feeling that way about my closet for the past few months and, as with every other area of my life it seems, I'm getting used to the discomfort. Not with the type of clothing I own, or the amount that I have, mind you. I'm ultra aware that my wardrobe is made up of some incredible piece by some incredible brands. Uncomfortable in the sense of cohesiveness and completion.
Although I've moved away from rigid capsule wardrobes, I'm longing for the same amount of structure I had in the past. And so for this Fall and Winter, I've decided to use my blog posts and the pieces I'm sent to feature as a conduit for that cohesive-ness that I'm craving and after this season, I'm going to get more creative with my brand partnerships.
A closet can only hold so much, after all.
But with cohesiveness, comes extreme pickiness. You see, I don't work with every brand that offers me free clothes or even paid blog work. It's tempting, but I think, as an ethical blogger, holding myself to higher standards, especially when it comes to what and how much I consume, is important (for more on "ethical blogger ethics" read an amazing post by my friend Leah at Style Wise).
Long story short, I'm getting more and more choose-y with the brands I work with and it shouldn't surprise many of you to learn that VETTA Capsule has, once again, made the cut. Their aesthetic had me hooked from the beginning, before I even knew what ethical fashion was, but now that I've learned more about the brand and even gotten to know Cara, the founder and designer, more personally, the heart to empower women, create pieces that will last, and do it all in a responsible, eco-friendly, fair way, is incredibly inspiring to me.
Cara sent me two pieces from her most recent capsule collection (the Minimal Capsule. Can you guess how obsessed I am with this capsule? The answer is a lot a lot) to review for this post. And although I will review the pieces, I wanted to chat a little bit about what I think makes this capsule so special and why I will always point my readers in the VETTA direction whenever possible. (To learn more about the brand's history and goals, read my first review of their Classic Capsule).
Versatility
I know, I might as well rename my blog "Simply Versatility" because of how often I talk about it, but as someone who has sampled (and subsequently un-sampled) lots of pieces via my blog, I know the importance of versatility when it comes to a conscious wardrobe.
If you can only wear a piece one, or even two, ways, is it really worth owning? Sure, there are the "special occasion" pieces that take up minimal space in our closets, but by and large, versatility should be a priority.
If you read my first post on VETTA, you know that their past pieces are amazing versatile, but when it comes to the Minimal Capsule, I think Cara redefined what the word versatility means. Each piece in the capsule can be worn SO many ways. Even the pants have options that make them unique and able to mix and match with the other pieces in the collection.
Take, for example, the Oversized Sweater. I knew when Cara sent me the initial product shots for the Minimal Capsule that this sweater would make it into my closet one way or another. I've spend the past two Fall/Winter seasons searching for the perfect oversized turtleneck sweater and, although I've almost taken the plunge a few times, I'm so glad I waited until this piece was released.
The sweater can be worn at least four ways, with the others yet to be discovered. It comes with a detachable turtleneck (I KNOW.) with buttons down the back so you can reverse it with the buttons in the front with or without the turtleneck, or wear it as a cardigan. It's oversized enough to layer pieces under it, for those especially chilly days, or wear on its own. Plus, it's made of 100% organic cotton.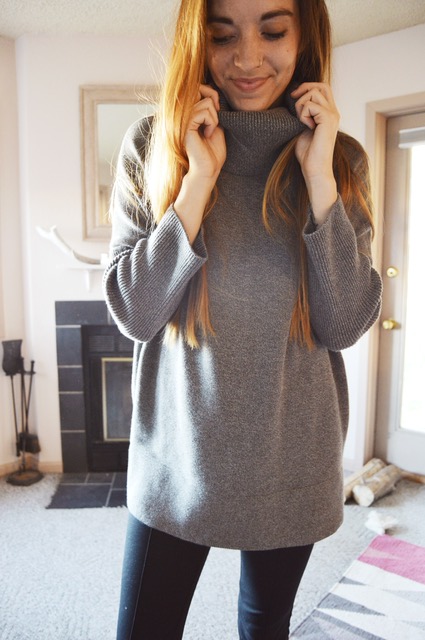 Sustainability
Ethics have always been at the core of VETTA's mission, with each capsule being sourced ethically and sewn in New York City whenever possible. The Minimal Collection, however, is the most eco-friendly collection yet.
Although I'm not sure that it can be worn four ways, the Stretch Ankle Pants, are the black pants that every wardrobe needs. They're highwaisted, with a side zipper, pintuck detailing down the legs, and a hidden pocket in the front for credit cards or cash. They're made from Lenzing Modal and Cara has plans to up the pants' sustainability even more in the future: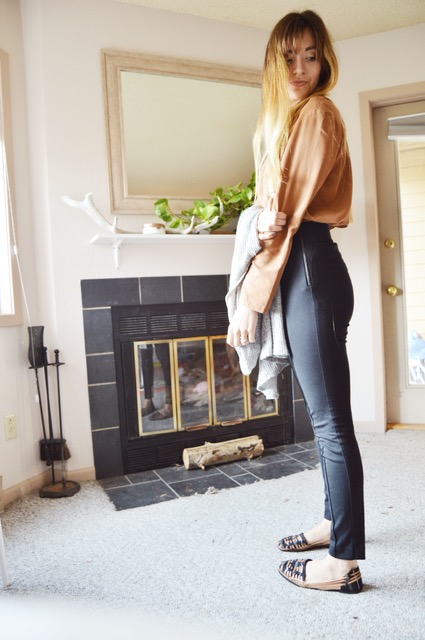 Ponte fabric is a double-knit fabric, so it's very thick and durable...but it's usually not sustainable at all, so we had to create our own version of it. Our Ponte Fabric uses Lenzing Modal, which is made from sustainably harvested Beech trees... Ponte fabric also typically contains Nylon and Spandex, which are not sustainable, but we partnered with a fabric mill in California that has strict environmental requirements so that these fibers are handled properly...This fabric will be 100% sustainable in the future.
VETTA has always inspired me, but with these steps towards a zero-waste, sustainable collection, I can't help but love the brand even more.