If there was one brand I could confidently rely on to supply my entire wardrobe, Toad & Co. would be it. Sure, I love lots of sustainable brands, and have a wide variety in my personal closet, but Toad & Co. seems to surpass even some of my tried and true favorites in quality, transparency, price, and selection.
This post is more than a "blog post", which is why I'm referring to it as a "lookbook". In October, Toad & Co. sent AJ and I a grand total of 10 pieces to test, wear in our real lives, and if we chose to, review them on SL&Co. The scope of that project scared me, to be honest. In most product review scenarios, I received one (maybe two) pieces to review and style. Some I even return to the brands after photographic and styling, if I don't feel they mesh well with my lifestyle.
But ten pieces? It felt kind of excessive. And then, I decided to wear the pieces for two full seasons and decide how to present them on my blog. You've seen sneak peeks for months- tags on Instagram, bits and pieces on my stories, and even pieces featured in other blog posts, but now, finally, you'll get to see how we've been wearing our Toad & Co. pieces for almost four months (which is crazy compared to my usual turn around rate of 2-3 weeks for a blog post).
I voiced my hesitation to blog about 10 pieces to Toad & Co., and as I've experienced from them time and time again, was met with flexibility and grace. I was able to interview their Materials Manager, the woman in charge of sourcing their materials and setting their sustainability goals. I'll share bits and pieces of our chat throughout the post and will end the lookbook with a rundown of each piece and what we loved about it.
What Is Toad & Co?
Toad is a true pioneer in the eco-fashion world. They've been around since the mid-90's, pushing the envelope for Good Business, proving that fashion doesn't have to be detrimental to the environment or to the people making it. As of today, 90% of their products are made with environmentally-friendly materials (that percentage is huge compared to most brands), and in my chat with Ciara, I learned that by the time their Spring 18 line launches, 94% of their pieces will be eco-friendly.
Toad & Co. also partners with Search Inc. to provide jobs to young adults with disabilities. They have brick and mortar shops all over the country (as well as one in Golden and Glenwood Springs, for my local CO friends!) and wholesale in many big retailers like REI, Title Nine, and Zappos. That fact alone gives me hope for the fashion industry.
The 4 Pillars of Sustainability:
In my call with their Materials Manager, I learned that Toad breaks their sustainability practices into four pillars:
1. Raw Materials Source (where the fabric is actually coming from. I.E. a cotton, bamboo fiber, hemp, wool)
They use mainly eco-friendly fibers and continue to push the envelop and raise their standards by removing the use of synthetic fibers like spandex and using recycled materials whenever possible. Their fabrics are oeko tex certified (no toxic chemicals involved), And their organic cotton is GOTS certified.
2. How the fabric is produced (dyes, water, spinning into thread...)
3. Longevity of the garment (will it deteriorate after a few washes, or will the piece be able to be worn for years to come?)
4. Recycle-ability (can the piece we worn again, or upcycled into something else when it's no longer needed?)
They seek to use a "closed loop" process whenever possible, which, simply put, means that the piece of clothing is sustainable for it's full lifetime. It's made from naturally occurring fabrics which means it's also able to biodegrade or be recycled.
The Pieces:
His: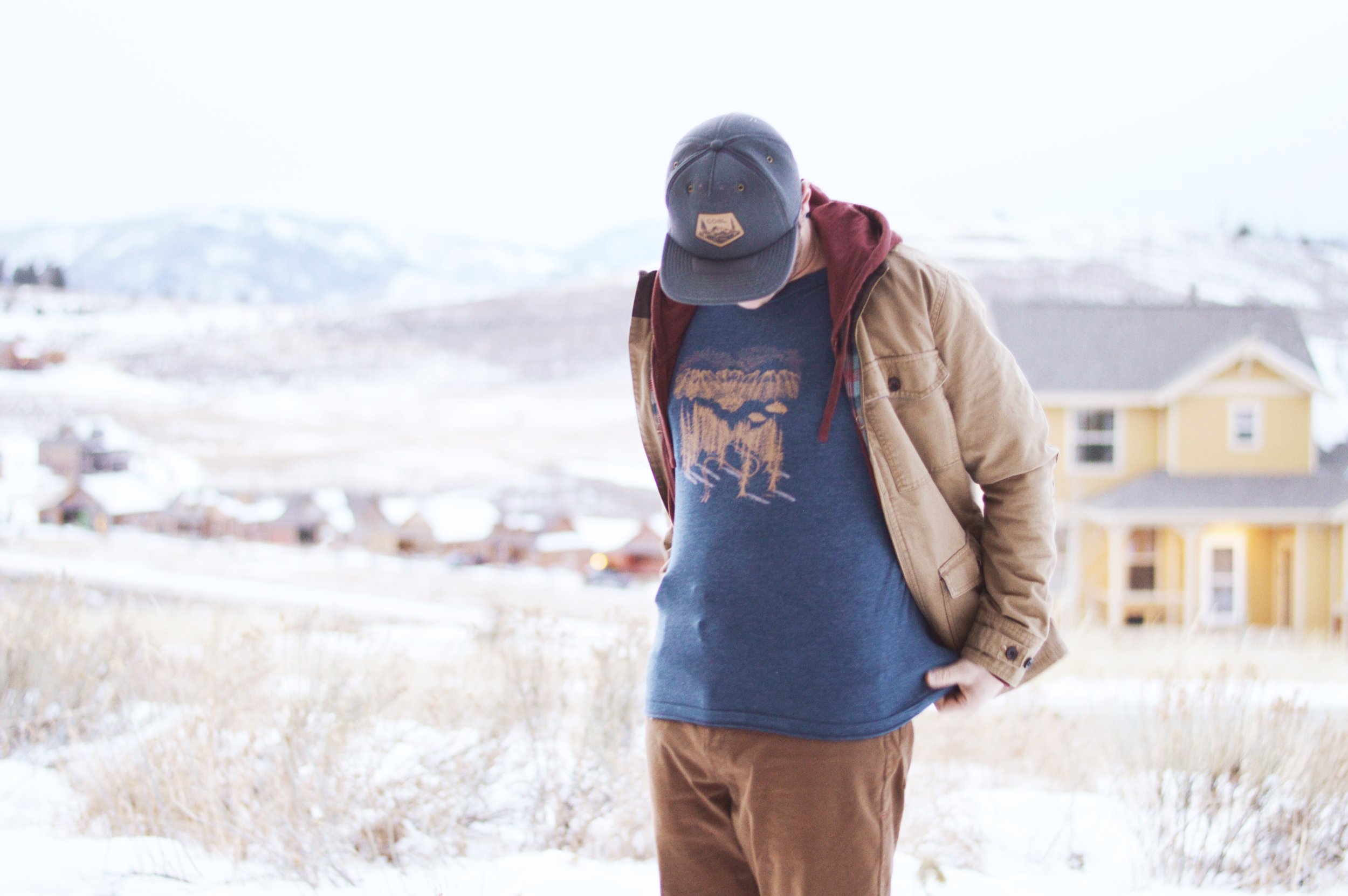 This tee is so soft and cozy (I've stolen it a time or two), and made from a 50/50 blend of organic cotton and recycled polyester. The graphic is perfect for AJ- outdoorsy and adventurous.
I'm so glad we decided to choose this coat for him. Not only does it go with everything in his wardrobe, but it's unbelievably warm and durable. It's roomy enough to wear a hoodie under it (AJ's is from Pact), but definitely thick enough to withstand the cold on its own.
These pants are another staple item that he's been wearing constantly since we got our Toad & Co. package. They're thick and durable, made of an organic cotton/spandex blend.
Hers: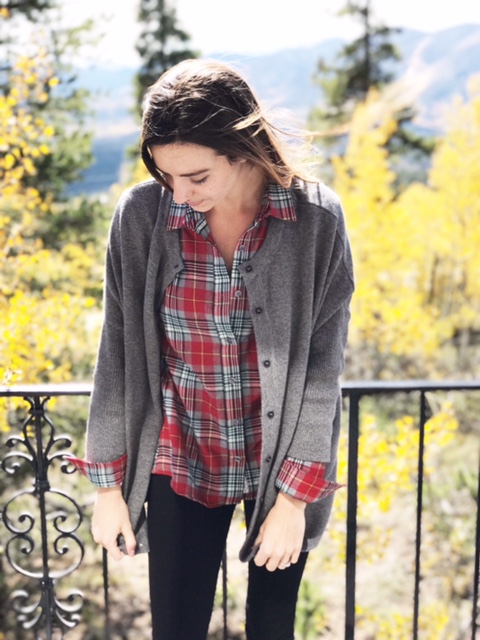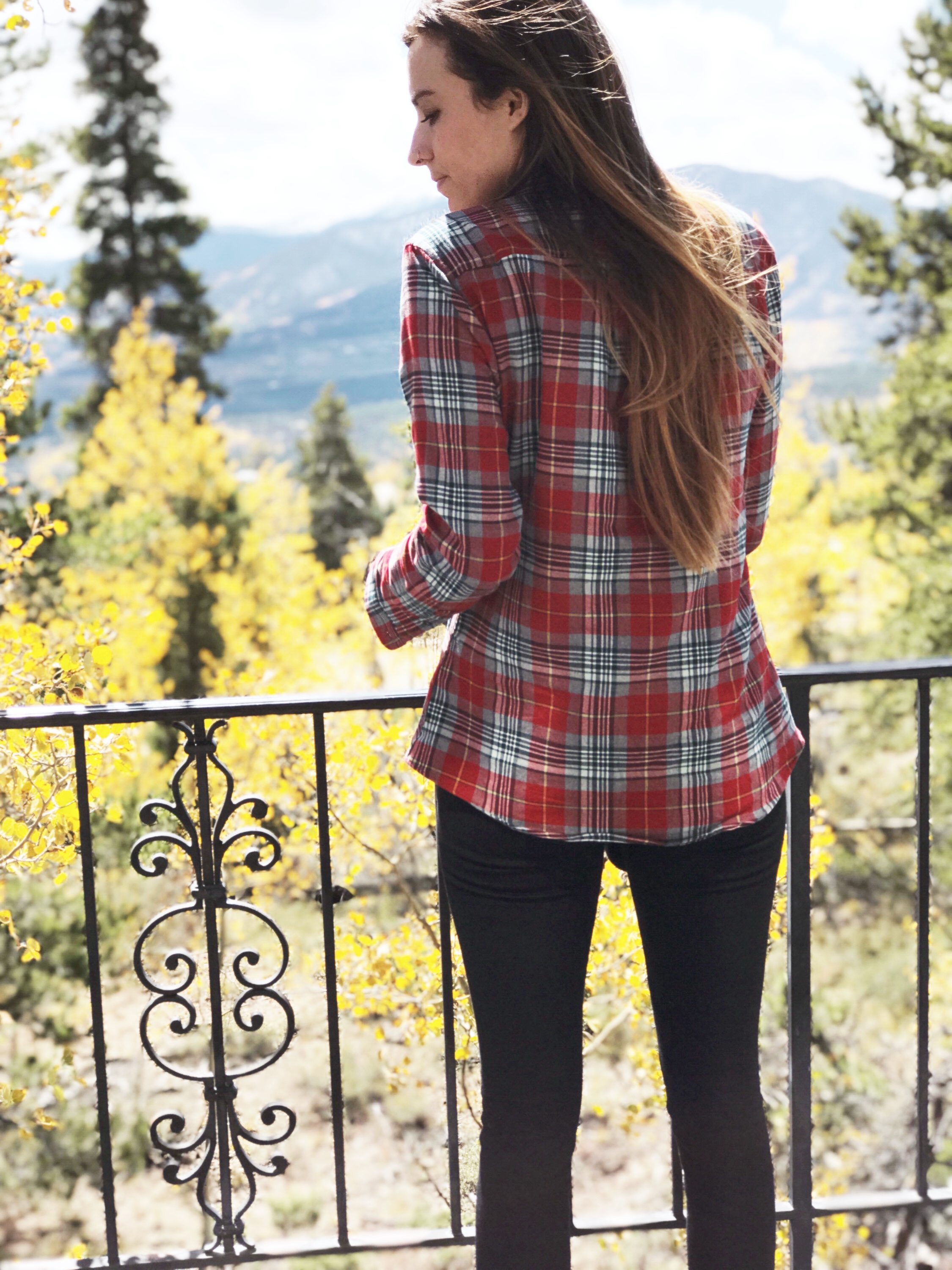 Made of 100% wool (read this post to learn more about why wool is one of my favorite fabrics for Winter), this sweater vest is so fun to style. I've worn it over button ups, over dresses in Dressember, and by itself with black denim and heels for a night out.
Perhaps my very favorite Toad & Co. item, this turtleneck is the definition of coziness. I've gotten so many compliments on it and it's truly a high quality, timeless sweater that will be in my winter wardrobe for years to come.
I've been needing a basic black long sleeve tee and this one did not disappoint. It's snug and long in the arms (which I love), with a subtle v-neck that makes it perfect for layering.
These leggings are my favorite yoga partners. They're thick, not see-through, and sturdy. They even have external pockets, which I've never seen in a legging, that perfectly fits my phone if I'm taking them on a run (or, let's be honest, a walk with my toddlers).
A close second to the Tupelo Sweater, this flannel is versatility and timelessness at it's finest. I didn't own a single flannel when I chose this piece, so it was the perfect addition to my closet.
I loved this poncho in theory (it's just as beautiful and high quality as everything else we received) but decided that ultimately I wouldn't wear it enough to justify keeping it in my closet, so I passed it on to my mother as a Christmas gift ;)
*This post was sponsored by Toad & Co. as part of their Ambassador program. We received clothing to review and compensation for the work that goes into writing, researching, and photographing. As always, all opinions are my own.
Family photography by Shutter Story Photography*