*This post is part of an ongoing partnership with MyFight. All opinions, photos, and creative direction are my own.*
Last week I wrote about Bird + Stone and their new campaign in support of girls' education around the world. It made me realize that although sexism is pervasive in almost every country on the planet, more and more, brands, non-profits, and communities are realizing just how important empowering women is for growth. Not just for an individual, but for an entire community, nation, and the world as a whole.
Women are the cornerstone, the fabric, the makers that hold families (and, therefore, nations) together, and some communities (some more than others) are learning the value of empowering, employing, and involving the women around them in ways that not only give the women a hope-filled purpose and reason to fight injustice around them, but ways that benefit people far beyond their reach.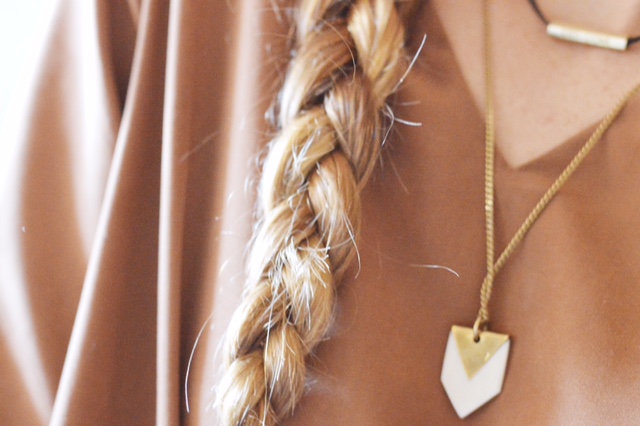 MyFight is one such brand that has set its sights on empowering women who are learning to fight for themselves, pulling themselves out of poverty, trafficking, and simply building a better life.
They partner with existing community workshops and established businesses in Ethiopia, India, Nepal, and Kenya to employ women and sell their handcrafted work to consumers in the west. MyFight invests in women who invest in themselves, proving that it's possible to use art and tangible goods to pursue a better life.
The two MyFight pieces that I'm featuring in this post are beyond gorgeous - the photos don't do them justice - I promise. I keep thinking about the hands that crafted my Everything Tote and the hands that made my Chevron Bone Necklace (that is currently sold out, but here is a similar option). Did they think about the ways their handiwork would be used in someone else's day to day life? Were they able to provide for their family in new ways through the simple act of supporting their craft- getting a bag from their small business, instead of hopping online and buying from Target?
The necklace is made from ethically sourced Kenyan cow bone, with recycled metal. The team of more than 40 men and women in Nairobi collects scrap metal and polishes it into gorgeous, refined jewelry, while making a fair, living wage, in a safe environment.
The tote bag - which I've had my eyes on for months - is made in Ethiopia's capitol from half vegetable, half chrome tanned leather sourced from the food industry that would have otherwise been wasted.
It has the most beautiful wear to its soft surface that gives the piece depth and tells a story, but also makes it practical for my day-to-day-toddler-filled life.
MyFight sells more than just beautiful, ethically made jewelry, clothing, and leather-goods. They're aiding artisans (most of whom are women) who are intent on building a better life for themselves in tangible, life-altering ways.
Although in America, most of us are privileged enough to not have to fight tooth and claw to make a living wage, to be seen as a valuable asset, and to support our families. We're still fighting our own battles with inequality here, no doubt, but like Martin Luther King Jr. wisely said, "injustice anywhere is a threat to justice everywhere."
One of the most beautiful things about ethical shopping is that real lives are changed and real inequality is matched with a fighting chance.
Join in the Fight today with MyFight and other brands who are paving the way. You can get 10% off your order with MyFight using the code "SIMPLYLIV10".