split in·fin·i·tive
split inˈfinədiv/
noun
a construction consisting of an infinitive with an adverb or other word inserted between to and the verb, e.g., she seems to really like it.
verb
vərb/
noun
GRAMMAR
a word used to describe an action, state, or occurrence, and forming the main part of the predicate of a sentence,
Four months ago, I shared an interview of a brand, just beginning their Kickstarter Campaign, with the tedious goal of creating "the last white shirt you'll ever need" (and raising enough money to fund the production of said shirts).
I shared my phone conversation with Althea, the brand's founder and designer, and the inspiring story behind the birth of GRAMMAR.
Maybe some of you read her interview. Better still, maybe some of you backed GRAMMAR's campaign. But whether you've been a fan for a while or are just making the introduction now, I'm so excited to finally get to show off not one, but TWO of their styles today.
Watching brands come to fruition is one of my very favorite things about my job. I get to be a cheerleader, rooting behind the scenes (as behind the scenes as the internet can be...) for people who are committed to making the industry a better place. And I, for one, am convinced that GRAMMAR is going to do just that.
Althea expands on the classic wardrobe staple - the white menswear-inspired button down - and makes it into something completely unique. Her pieces are more than just basic, meant to elevate your day to day, whether you're running from coffee shop to board meeting, or from playdate to coffee shop. (Sorry, all of my day to day activities include coffee shops). They're meant to be the "minimalist closet essential". The last white shirt you'll ever need.
I chose the Verb shirt and the Split Infinitive to showcase because they were both accessible for my everyday life, and, of course, they're both classics with a twist.
But before I get to the nitty-gritty of each shirt- a bit about GRAMMAR:
Production & Sourcing:
GRAMMAR is an NYC based brand, making their garments in certified factories in the garment district. Althea sources her cotton from certified organic cotton growers in India (a process, as she mentioned in our first chat, that wasn't simple or easy).
Fit & Feel:
GRAMMAR's first collection of five shirts are made with the perfect, crisp organic cotton poplin. It's soft, but not silky, to the touch, and floats off the body easily and without having to adjust it. Their shirts are designed to fit a wide range of body types, sizes 0-12, and are easy to care for (hurray for labels that don't read "dry clean only"!)
I'm wearing a size 2 in the Split Infinitive, and there is definitely room to spare. For the Verb, I intentionally sized up, because I wanted an over-sized menswear look, instead of a fitted, classic white shirt.
The shirts are endlessly versatile, but I purposefully styled them minimally to show off their "form and function" and, because, obviously, I'm fairly minimal when it comes to my styling in general.
The Split Infinitive:
Featuring a rounded shape, billowy sleeves, and a split collar in the back, the Split Infinitive is perfect for pulling off a structured look when you want to feel cozy and relaxed. It's slightly shorter than the Verb and feels much more feminine, airy, and playful.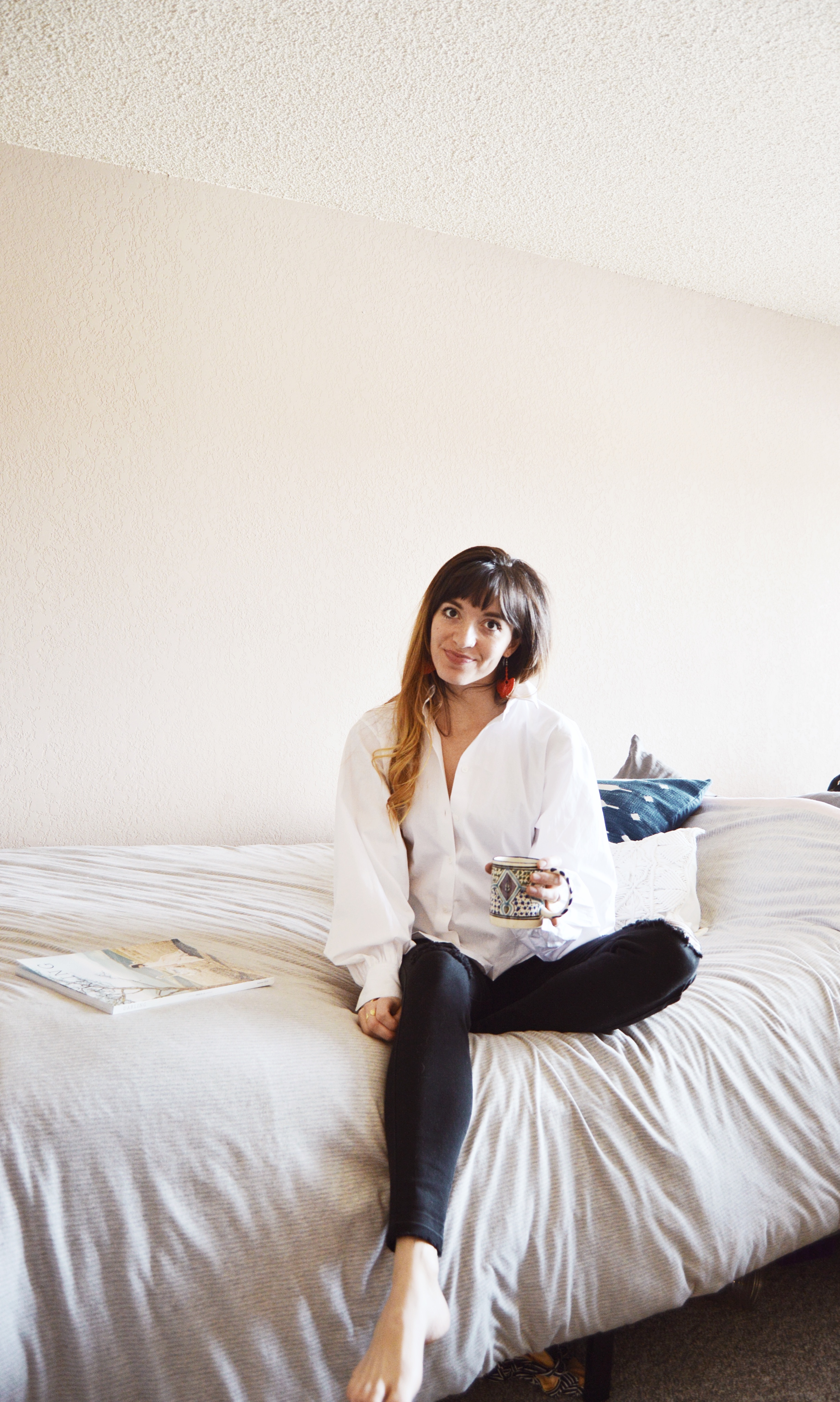 The Verb, much like its name implies, is made for action. It's designed for rolling up your sleeves, and being comfortable while you're at it. Remember, I sized up two full sizes (from a 2 to a 6), and feel like doing so helped me acheive the perfect oversized look- like I stole the shirt from my husband's closet. It could easily be paried with a skirt, tied over a dress, layered under a sweater, tucked into shorts, or, like I've done, worn casually with a pair of boyfriend jeans and a cardigan.
Armed with the mindset that purchasing a shirt from GRAMMAR could, very easily, be the last time you ever have to buy a white button up, the decision to shop from a woman-owned, sustainable brand seems like an easy one. These shirts are expertly crafted, durable, and truly lovely- the perfect multi-tasking piece to fit the many roles in our day to day lives.
*This post is sponsored by GRAMMAR as part of an on-going partnership. All opinions and creative direction are my own.*