*Thank you to Free Label for sponsoring this post. As always, I work hard to showcase products that I've actually tried and love in real life. Thank you for supporting the brands that make SL&Co. possible.*
Almost every article you'll read about minimal closets notes the importance of investing in pieces that serve multiple purposes. Every piece of clothing you purchase should "multi-task", in one way or another. Ideally, you'd be able to dress a piece up, wear it casually, layer it over or under other pieces and more. My general rule of thumb is that you should be able to wear each piece in your closet at least three different ways.
Free Label, an ethically made clothing line based in Toronto and Vancouver, markets their "perfect basics" as active wear primarily. However, their pieces are much more than just standard basics. Made in small batches to ensure zero-waste standards, with ethically sourced materials, by employees who are local (in Canada) and paid fairly, each of their pieces is a basic with a unique twist. Be it a cut-out detail, high-low hems, or ultra-flattering cuts, Free Label's pieces are versatile enough for a yoga session to a night out (which is exactly how I used my Gerry Pullover).
As you can see, the pullover is the perfect piece for working out or lounging. It has a longer cut in the back, to cover your booty, which is super helpful since I don't usually like wearing shorter shirts with my leggings if I wear them out and about. It also gives a bit more coverage when I'm practicing my downward facing dog. ;)
The cut out in the back is perfect for showing off a pop of color or a pretty bra. It's soft, has extra long sleeves (which I love), and a crew neck, for even more coverage.
The pullover happens to meet my versatility requirements as well. I wore it to the zoo with AJ and the girls during our week in Omaha, and was in love with how easy it was to wear comfortably with casual clothes too (not just leggings). I can see it tucked into a black leather skirt too or worn over a backless, tight dress. So many options!
I wore black jeans, booties, and my Nena & Co. bag, which is my only pop of color in all of my outfits (except my bra in this one, thanks to the fun cut out back!)
Their Jaimee Tee in black is another staple in my closet that I love for it's versatility. It has an exaggerated high-low hem like the pullover, but is much lighter and is made out of organic cotton and bamboo rayon. It's a classic black tee with a unique twist that makes it perfect for wearing to the gym or with a body con skirt and heels (or just with jeans and booties, if you're like me).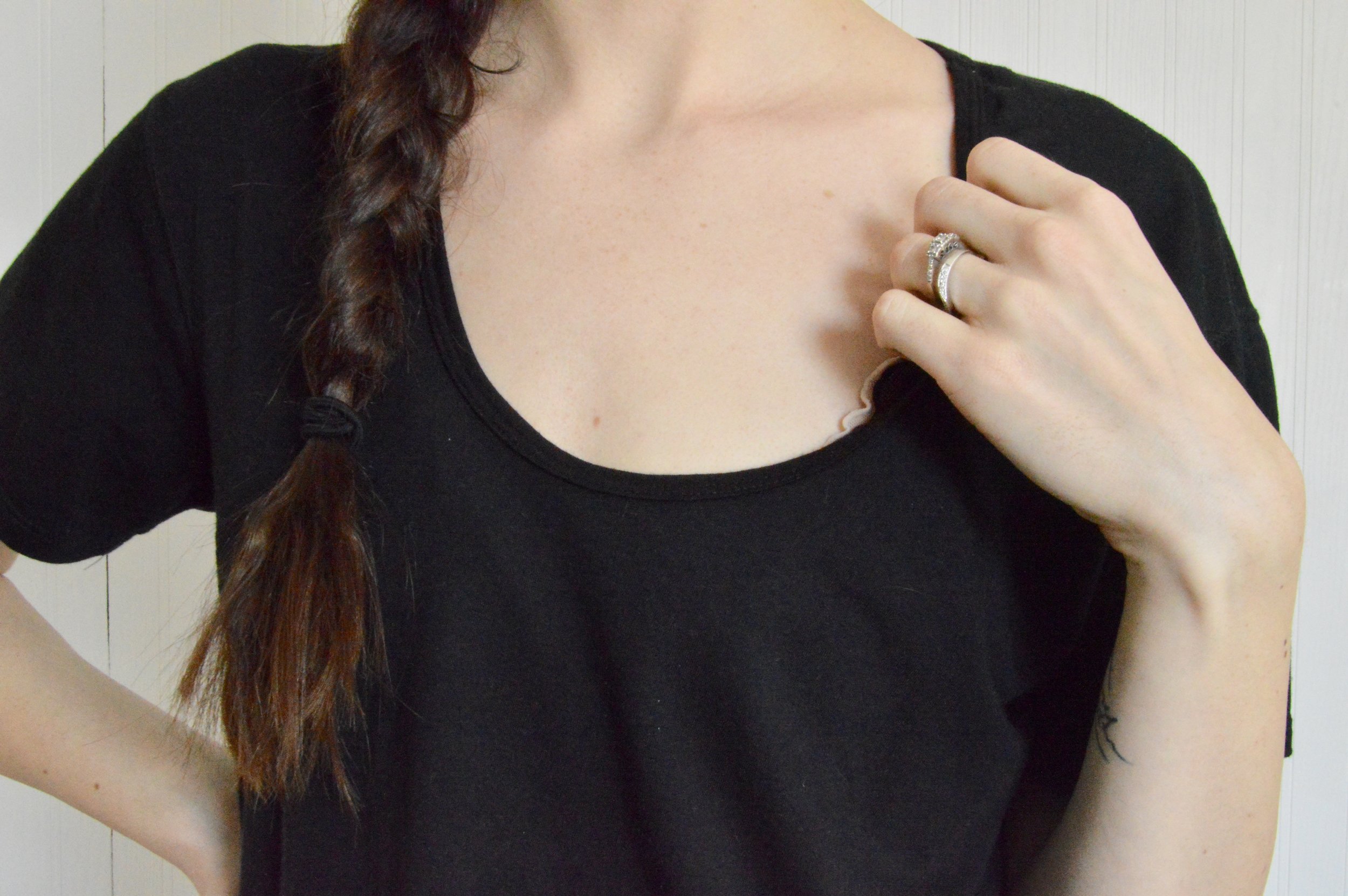 I've worn it tied up to the side as well, turning the tee into a crop top paired with high waisted jeans. I'm especially excited to integrate it into my spring wardrobe as a tied up crop top.
See what I mean by "more than just basics"? These two pieces aren't the only ones from Free Label that are extremely versatile either, their Black Trail Tank is another great example of just how many different ways you can style one of their pieces.
If you're looking for multiple-use basics made with love, Free Label is your new go-to. Keep an eye out for them to make many an appearance in my Spring OOTD's.
Have you invested in any versatile basics? What are your favorite ways to wear them?