*This post is in partnership with Daub | Active. As always, all sponsored posts are authentic and hand selected by me. Thank you for supporting the brands that make Simply Liv & Co. possible! #sponsored*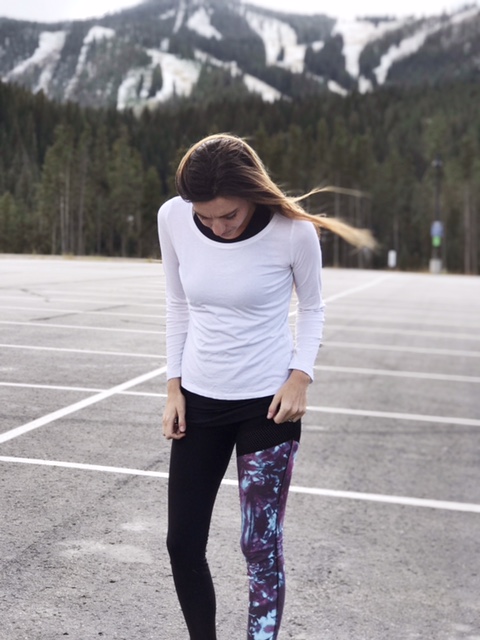 One of our biggest reasons for making the move to Colorado was to pursue more active lifestyles. Both AJ and I value exercise, eat as healthy as possible, and think of healthy living more as lifestyle than a workout routine. Before our move, however, we were both living fairly sedentary lives (other than chasing after two toddlers and his job being very physically demanding). We knew that it wasn't the kind of life we wanted for each other or for our kids and so we moved to one of the most active and healthy states in the US.
I've never been the best at working out consistently, but ever since we moved, I've done more yoga, hiked more frequently, and embarked on more outside adventures than in the last year in our old home. It blows my mind how something as simple as loving where you live (and, of course, loving your body) can inspire you to get up and move, even in the simplest of ways.
I won't pretend to be an expert yogi, have a perfectly toned body, or even that I workout every day (because I don't), but I will say that implementing small (and big) changes to my lifestyle has improved my happiness and overall health in the past few months.
Although I generally avoid the "athleisure" trend when I'm out in public, I've found that having a few really high quality pieces of active wear helps get me excited about staying healthy and motivates me to move, whether in my living room on a yoga mat with my toddler or in the middle of the woods with my husband on a hike.
I've got to admit that when Daub | Active (and their founding, sister brand Daub + Design) reached out to me to work together on a long term blog partnership (get exited to see more in the next few months!) I was hesitant. You won't see me posting photos of my badly performed sun salutation or of my downward facing dog with toddlers climbing up and down my legs. I'm not a fitness expert or model.
But I am someone who values their health and working with a brand that helps women see their own beauty while making amazing small batch active wear is something I can get behind.
Daub | Active is a Canadian brand producing all of their products locally in Vancouver, designing and creating each piece by hand, ensuring that no two pieces are alike and that each is made with meticulous care.
Lexi Soukoreff, the brand's founder and designer began her first brand Daub + Design as a way to explore color, pattern, functionality, and design. With a history in the fashion industry, Soukoreff wanted to create a brand that sold high quality, unique pieces without adding to the already large amount of damage done to the environment by the fashion industry.
Her pieces at Daub + Design (the red and black leggings I'm wearing are part of her D+D line) are hand dyed, while her pieces from Daub | Active (the blue patterned legging and black mesh tank) are digitally printed. Next month, you'll get more of a sneak peek into Lexi's design process and why she uses the methods she does, as well as more photos of the pieces, but for now, know that the way these pieces are made is as responsibly as possible.
Why buy Daub | Active?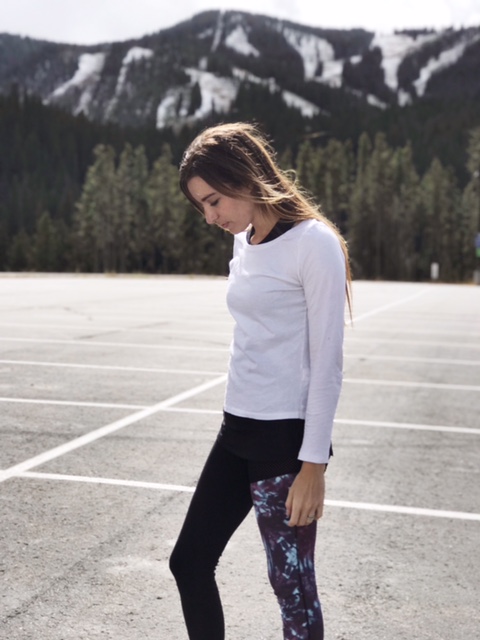 If you browsed the website at all, you'll know that these leggings aren't your typical fast fashion leggings. Aside from the brand's eco-friendly and ethical practices and unique aesthetic, their prices are notably higher than even other slow fashion brands. But before you walk away due to budget restrictions, let me tell you what sold me on these leggings in the first place.
Before these two pairs of Daub | Active and Daub + Design leggings, I only owned a single pair of all black leggings from Girlfriend Collective. Like Lexi's brands, my leggings weren't cheap. I spent over $100 on leggings that I knew would last me years. As my cheap Target leggings deteriorated (which is odd, because, remember, I don't even workout often...) my GF leggings stood the test of time, because they were well made and made to last.
I took one look at my new leggings and knew they were made with the same kind of precision and care that you'd expect from a high end brand. These leggings can handle the wear and tear of a strenuous hike, an exhausting workout, or a week with my toddlers. In my mind, buying one high quality pair is well worth the extra money you could save on a cheap pair that you'd have to replace several times over during a single pair of D|A leggings' lifespan.
Stay tuned for lots more info about this incredible brand and the work Lexi is doing to improve the fashion industry one hand-dyed legging at a time.